News
University Medical Center wins state's top nursing honors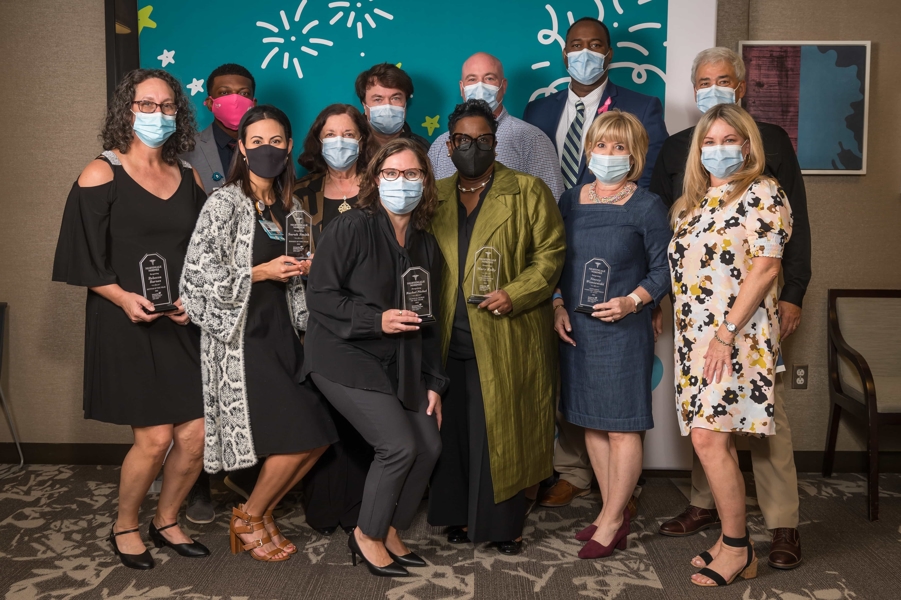 University Medical Center New Orleans was named Hospital of the Year for facilities with 161 beds or greater, and nurses Rachel Nickel, Stacey Wisniewski, and Sarah Smith received top honors at the 2021 Nightingale Awards, presented by the Louisiana Nurses Foundation (LNF) and Louisiana State Nurses Association.

The prestigious awards, held virtually this year recognize nurses and nursing programs for excellence and quality service in various categories.
The Nightingale Hospital of the Year award recognizes hospitals that demonstrate recognition of professional nursing and innovation in leadership. At University Medical Center, nurses have led the way in establishing and expanding numerous innovative practices, touching all aspects of hospital operations. Nurses collaborated on the development of an Emergency Department Annex and new protocols for patient and family communication during the height of the COVID-19 pandemic.

Nurses actively participate in nursing councils and committees focused on areas such as quality improvement, patient care and safety, research, and evidence-based practices. University Medical Center also supports and encourages nurses to pursue lifelong learning through professional development, post-graduate education and certification. Nursing leadership and staff, with support from hospital administration, have also embarked on an ambitious journey to Magnet status, the highest credential for nursing facilities in the United States and around the world.
"Being named Hospital of the year is an incredible honor that reflects an exceptional team effort," said Terrie P. Sterling, Interim CEO of University Medical Center. "The nominations were reviewed by an external expert panel, and the award demonstrates that our team has the structures and processes in place to support the best practice of nursing and provide exceptional care to our patients."

The Clinical Practice Nurse of the Year award recognizes a registered nurse who consistently delivers exemplary direct patient care in a primary nursing role. This year's honoree, Rachel Nickel, BSN, MBA, RN, CCRN, serves as Director of University Medical Center's Medical/Surgical Intensive Care Unit. A nurse for 15 years, she has dedicated her career to the care of critically ill patients.

Her accomplishments at University Medical Center include helping in the smooth opening of an additional ICU with 24 beds to meet the influx of COVID-19 patients during the height of the pandemic and helping to facilitate the Cardiology service line's launch of the ECMO (Extracorporeal Membrane Oxygenation) program. Under her leadership, the MICU received LCMC Health's Patient Satisfaction Award in 2019 and 2020. Rachel was recognized as a CityBusiness Healthcare Hero in 2021 and as a Modern Healthcare Rising Star for Excellence in Nursing in 2018.
Rachel first obtained her Bachelor of Science in psychology from Loyola University New Orleans, her BSN from Johns Hopkins University School of Nursing, Baltimore, MD, and her master's in business administration from the University of New Orleans. In 2017 she obtained a national nursing certification, Certified Critical Registered Nurse (CCRN), through AACN. University Medical Center recently created and developed a clinical ladder for nurses called STEPS, and Rachel was one of the first staff nurses to complete her professional portfolio and become a participant in the STEPS program, leading by example. In 2020, she was selected by nursing administration to participate in the Louisiana Action Coalition's Nurse Leader Institute weeklong course that was held in Baton Rouge.

The Nightingale Rookie of the Year Award honors a registered nurse who, while practicing for less than two years, exhibits awareness of the practice of nursing and professionalism while delivering nursing care. This year's honoree, Sarah Smith, a nurse in the MICU, began her nursing career at University Medical Center in 2020. She has a unique journey that began with her first obtaining a Bachelor of Business Administration from Loyola University New Orleans. From 2011 to 2013, she worked as a classroom teacher with the charter school organization KIPP New Orleans, completing a two-year commitment with Teach for America.

Sarah returned to school at LSU Health Science Center in the accelerated nursing program (CARE), receiving a Bachelor of Science degree in Nursing. After joining University Medical Center first as a nurse in the Level 1 Trauma Center, she was able to realize her goal of being a critical care nurse in the Medical ICU. Sarah was chosen by her Unit Director to be the MICU Magnet Champion and is also an active member of the MICU Shared Governance Council, making improvements in the workplace environment, supported by direct care staff nurses. She is described as a new nurse whose daily actions and patient advocacy are great examples of the compassion and concern for humanity that we all strive for as nurses.

This year's Nightingale Awards recognized the following recipients from LCMC Health:
Hospital of the Year (60 beds or fewer) – New Orleans Hospital
Outstanding Community Achievement by a Registered Nurse – Stacey Wisniewski, LCMC Health
Contribution to Quality Award – Lisa Hickey, East Jefferson General Hospital